For office retail and industrial premises.

ABOUT TOWN & COUNTRY CLEANING
We have extensive experience in the care and maintenance of carpet, vinyl, tiled, wooden and parquetry floors. Town & Country Cleaning provides businesses with the highest quality cleaning method available with the dedication to servicing your every need. Customers continue to be highly satisfied with the consistent quality of services provided, our high level of security, honesty and confidentiality and renew their contracts on an annual basis. Our company services approximately 80 regular commercial contracts. Included among our valued commercial clients are Origin, Findex, Coopers Gap Wind Farm, Goondir Health, Myall Medical and numerous government offices and small businesses.
At the 2018 BSCAA Queensland Excellence Awards late
last year, staff members of Scott and Sharryn MacDougall's
commercial and industrial cleaning business, Town & Country
Cleaning, claimed three awards… Find out more.
the cleaning process
The choice of the proper cleaning method is important. Some methods leave residues that cause rapid resoiling and defeat the purpose of cleaning. Some methods actually damage the carpet fibres. Hot Water Extraction or Steam Cleaning is the method most carpet manufacturers and fibre producers recommend. The Australian Standard states that "only hot water injection and extraction methods have so far been demonstrated to be effective in leaving minimal residues in the carpet". Dust mites generally live at the root of the carpet fibre and tend to rise with moisture, and vacuuming alone is not strong enough to dislodge them.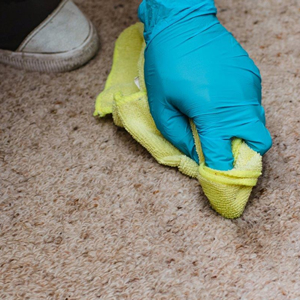 Carpet Cleaning
Carpet cleaning is carried out by our experienced operators in compliance with the Australian Standard for Textile Floor Coverings (AS 3733) using a 20 hp truckmounted carpet cleaning machine - Dalby's only truck mounted machine - using the hot water extraction carpet cleaning method. Truck mounted units are usually four times as powerful as portable electric machines and are higher in vacuum and air flow.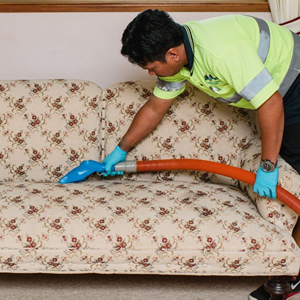 Upholstery Cleaning
Upholstery including most modern lounge suites, dining chairs, office furniture and vehicle upholstery are able to be cleaned by a modified version of hot water extraction.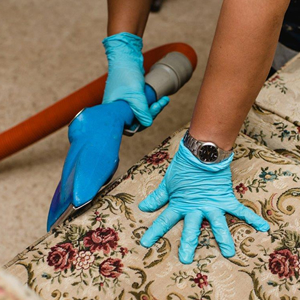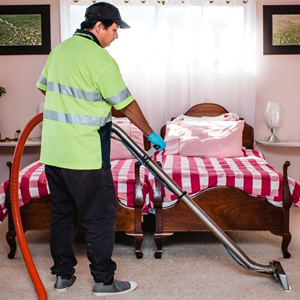 Hot Water Extraction
Hot Water Extraction is the only cleaning method classified as 'deep cleaning'. All the others are considered 'light surface cleaning' because they are unable to remove soil deep in the pile. Hot water extraction refreshes the pile and removes discolouring agents from the carpet and maximizing extraction of pollutants. Other methods also leave large amounts of detergent or cleaning agents in the carpet after cleaning which act as food for biological contaminants and hasten resoiling.
Extending the life of Your Carpet

call now to discuss a professional maintenance programme
Extend the wear of your carpet and keep it looking great with a Carpet and Upholstery Maintenance Program. We will analyse your needs and deliver a plan for keeping your carpets and fabrics in a like new condition.

Commercial cleaning is our core business!